How to Get Trending Blog Topics
If you love reading blog or love writing blog, in both cases finding trending blog topics is important. For blog writers it is very important to know what topic audience care about. Writing blog which contains contents which audience want to read will increase the page views and revenue. There are number of ways to find the trending topics. Here are some suggestions.
Use Social Media Like Facebook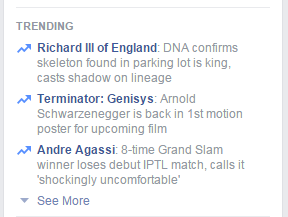 Social networking sites like Facebook, Twitter and Google+ are great platform for finding trending news and topics.
To find these trending topics on different social media platforms look on the appropriate places. For Twitter, check out the left sidebar; For Google Plus, click on the 'Explore' tab; and in Facebook  it's present in the the right sidebar of your home page ( newsfeed ).
Use SubReddits
Subscribe to subreddits according to your job or niche. Search on the internet for different subreddits and subscribe to them which seems to interest you.  Use a tool like
SubReddit
Finder to search relevant subreddits.
Expand your RSS feed subscription
RSS feed are widely used for getting notification about new blog posts from blogs you subscribed to. If you have subscribed to only some handful best blogs RSS feeds , it's great. But increasing this number will certainly help you to get the current trending topic.
You can also subscribe to the comments feeds of some of the most popular post in your view. Comments feeds will reflect what readers are interested in.
In The End
Finding the topic in which readers are interested is certainly necessary. But more important thing is to make new topics and contents based on those topics, instead of repeating the same stuff. Enrich your contents with new ideas with your writing skills. And readers would love it. If you got some new ideas , don't forget to notify me in the comment below.